We are your Great Lakes Resources for everything fishing and more! If you are looking for summer fishing tackle, ice fishing tackle, fishing electronics, marine equipment and supplies, rods, reels and just about anything else you can put in your fishing boat or cast a line at, we have it all.

Our website has every great item we carry in our store and hundreds of items we don't. Search our online catalog by the manufacturer, product type or season, sku# or by our category quick link searches.

Everything you need is right here at MarineGeneral.com but just in case you can't find it please give us a call or contact us and our customer service team will assist you.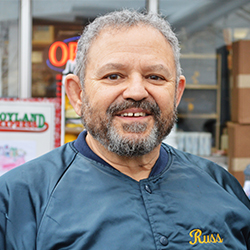 In 1976, Russ Francisco opened a sailboat hardware shop on London Road catering to the traffic heading up the shore and to inland lakes. He kept busy selling rope, pulleys, swivels, gaskets, lanyards, O-rings and D-rings to keep the sailboats seaworthy. That was enough for him but the customers who stopped asked for live bait, fishing tackle, power boat hardware, boat seats, anchors, boat paint, electronics…
He added to his inventory, his staff, and his expertise, and soon expanded into larger quarters. He moved next door to 1501 London Road, where Marine General has been ever since. But the growth, and the changes in his business has never stopped.
"This is a one-stop store for boaters and anglers," said Francisco, plus we have hundreds of items for all types of outdoor enthusiasts. Over the years we have added camping supplies, winter clothing and boots, Carhartt work clothing, snowshoes, ammunition, and hunting clothing. But even with all of these new products we still cater to the sailing and marine enthusiast who needs parts and accessories.
In addition to all the things mentioned above, Marine General deals in expertise. The employees fish and boat themselves. "The staff here is the secret to our success," Francisco stated. "It's hard to find good people, and the folks we have here are really good. They can tell you what lure to use in a particular situation; they'll give you pointers on casting or on rigging your sailboat." They regularly travel to seminars about boating and fishing equipment and techniques in Chicago and Green Bay to extend their specialized knowledge of Great Lakes and walleye fishing.
By keeping his overhead low, Francisco is able to sell products at prices that remain competitive with the chain sporting retailers and catalog companies. The company gives the catalogs a little extra competition by maintaining a mailing list of thousands of names who receive a listing of new products and special prices two times each year.
This brings in boaters, anglers, and water sports enthusiasts from all over the US and Canada to the store, and with the help of the website,www.marinegeneral.com, Marine General can be a one-stop shop for boaters and anglers all over the world. Francisco gives back to the community of boaters and anglers that supports his business by supporting organizations who educate the public in boating safety, such as the Duluth Power Squadron or specific fisheries such as the Steelhead Association or the Western Lake Superior Trollers Assn.
"These groups help keep boaters and anglers safe, and they work on conservation issues so that there will be adequate fishing the lake and clean water in all the waterways. We don't have time to do that, but their work is very important." It all fits in with Marine General's business plan, to supply high-quality goods at a realistic price and to serve the customer. Experience it for yourself when you stop in the friendly store at London Road and 15th Avenue East, Duluth.